In 1980 Camblin began collaborating with Houston artist and future wife Nancy Giordano Echegoyen.  Their first series together, Rock And Roll Palm Trees, exemplified the working process of their newly-formed pseudonym "Anonymous Artists."  In order to downplay individual styles, the two artists agreed to limit their brush strokes to dots and dashes.  This new style of rendering continued to develop over time and was defined by technical virtuosity, vivid imagination, and compositional daring. It eventually became known as the "mouches volantes" style of painting.  Mouches volantes is a French term that translates into "flying flies" and was the perfect technique for welcoming any artistic occurrences between collaborators. Mouches volantes was the discovery that allowed the random juxtaposition of contrasting ideas to produce resonant images. It is best described as the painting style of Van Gogh combined with the visual imagery of Picasso. This mouches volante style is used extensively in several of his 1980s works, Big Al – Electric Age being the most famous.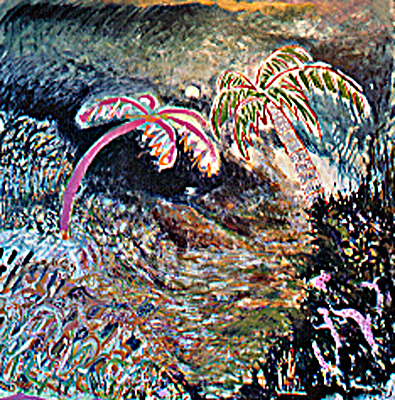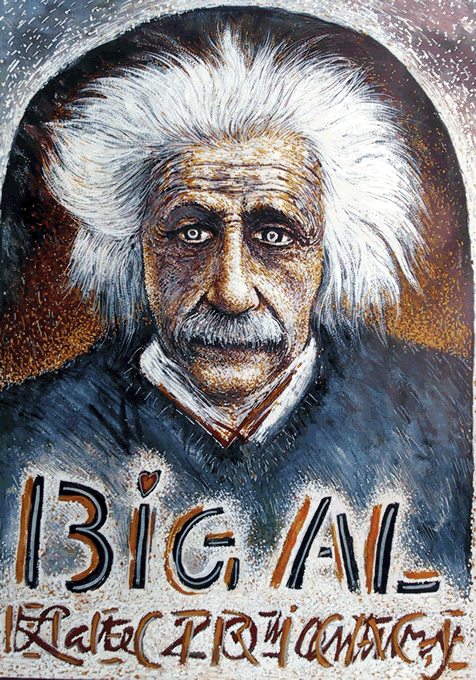 Camblin's mouches volantes technique uses deliberate perceptual organization to create meaning out of what appears to be random brushstroke-stimuli in the same way a child (or anyone!) creates meaningful images out of a sky full of clouds. The viewer weaves together a jigsaw-puzzle explanation based on their own historical and optical experiences – essentially formulating that which doesn't exist into something which does. The difference between Camblin's artwork and a sky full of clouds is his "priming" of the clouds with imagery for the viewer to discover.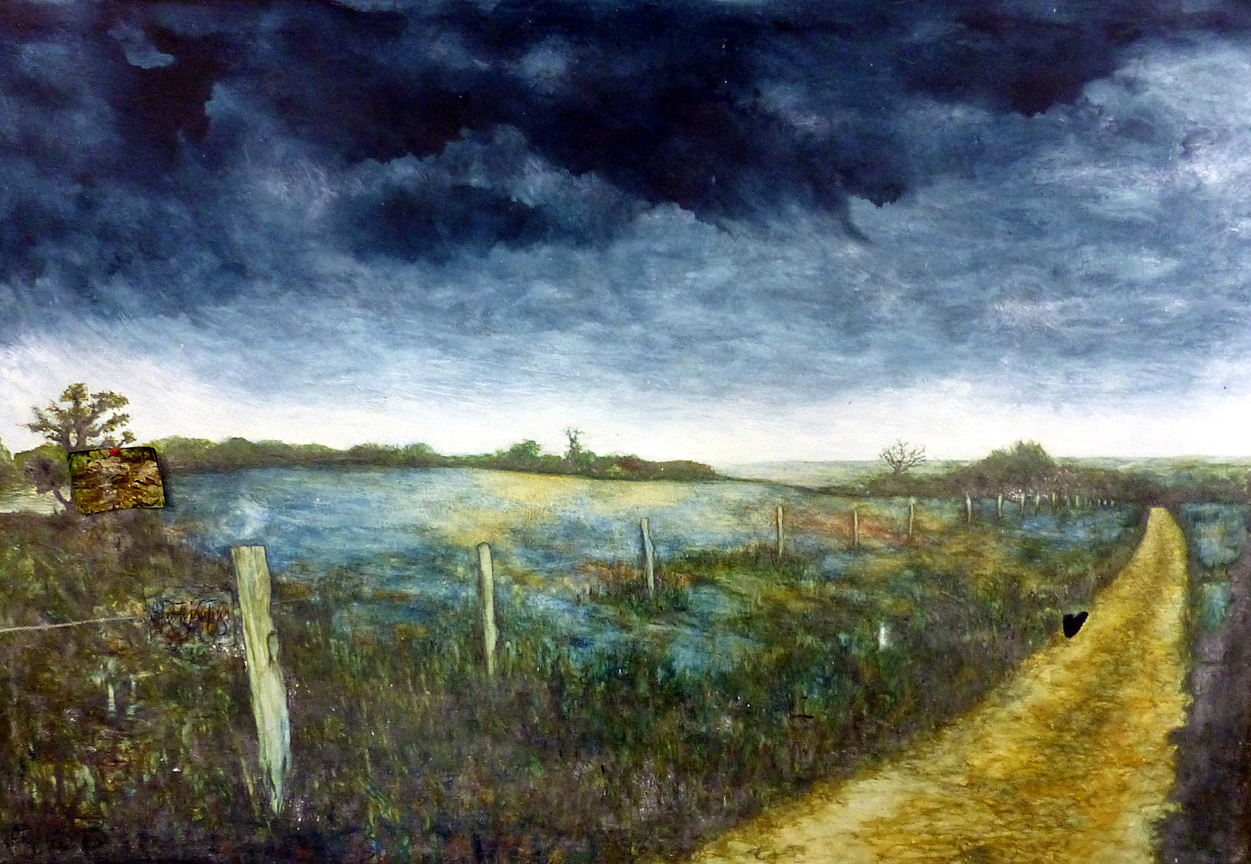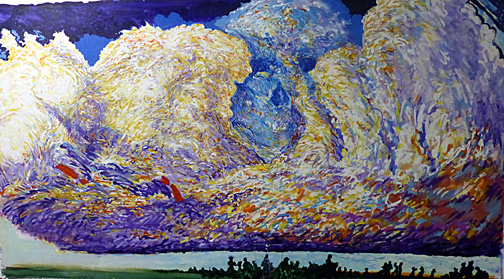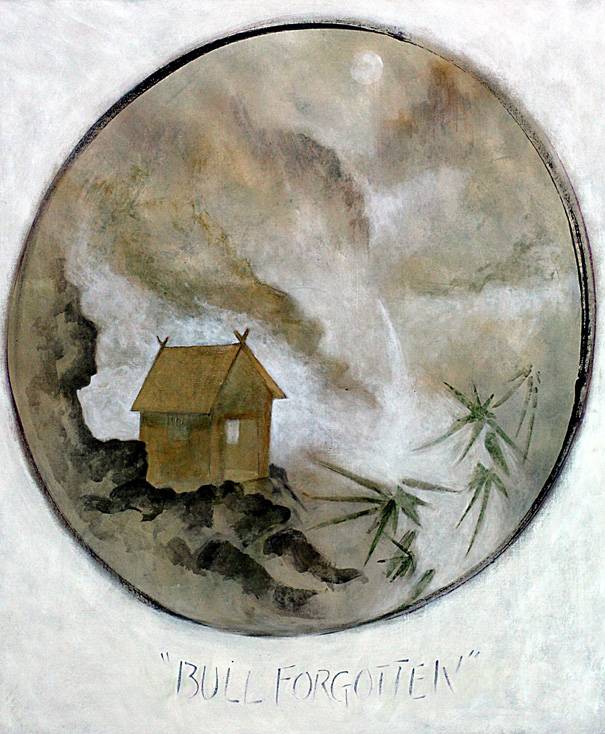 In the game of the alchemist it looks perfectly balanced, with Camblin however, his prejudice showed, preferring science to magic (those pesky electrons again).  In a simpler more dependable way he felt science takes the whole earth with it:
"Magic always made me curious about the seeker or user.  What are they paying for the use of that power? As you never get something for nothing, the price would seem to be high. I stuck with common sense and tried for the perfectly average view of the universe.  This would allow me to enjoy the miracles on both sides of science and magic and celebrate the nuances between the whiteness and blackness. I hope I will be around when the two meet in the near future and that all of us could celebrate the newly-created color of intense bleak gray."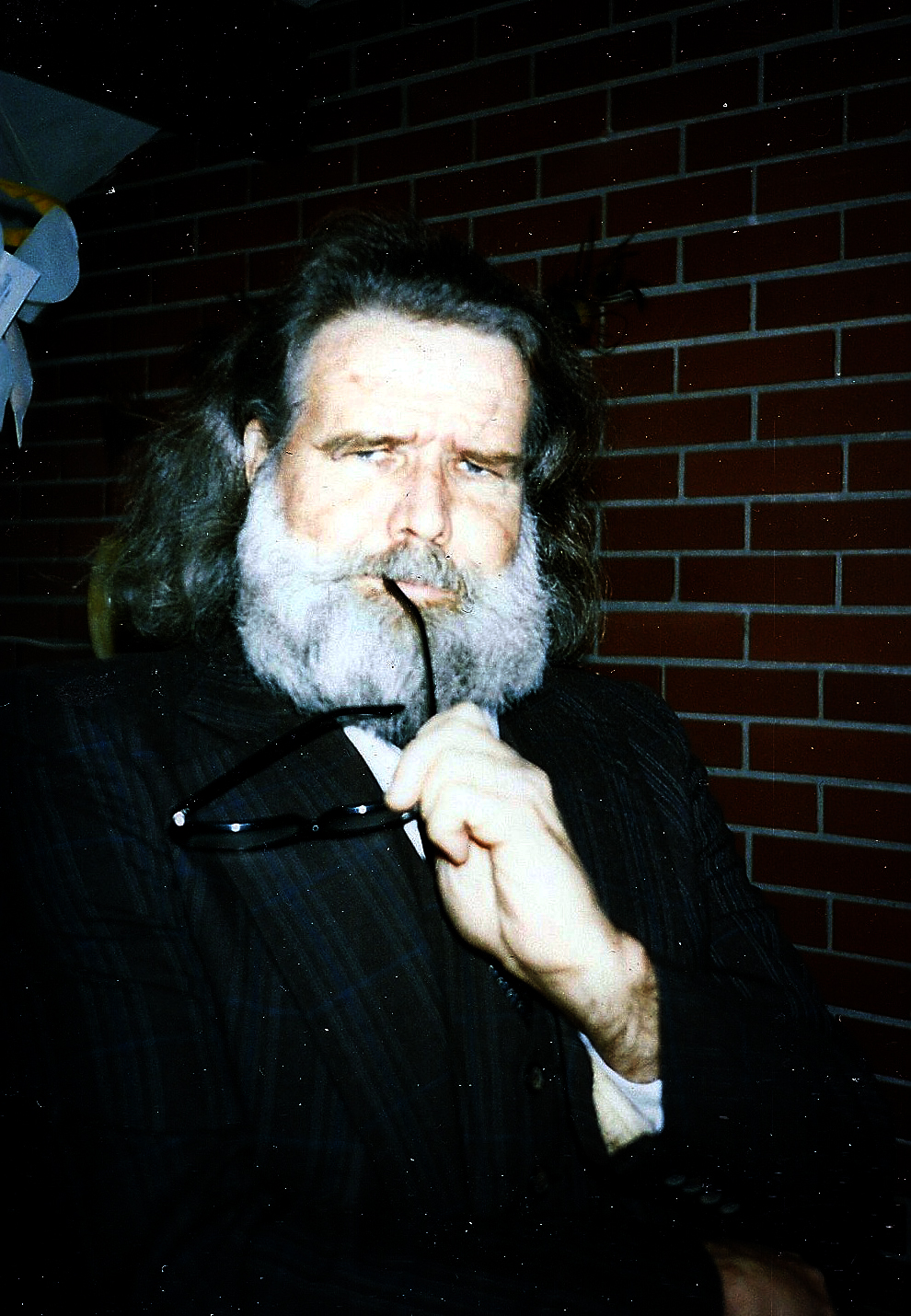 He felt art was a religious experience, a kind of knowing not believing experience:
"It all sounds cryptic, and that's because it's an ineffable experience.  Thinking about something too much can lead to intellectual wariness, but not necessarily creativity.  Creativity is not just getting out of the trap, but using it to reach others."
His painting Vanitas, for example, is a tribute to the Oaxacan Day of the Dead festival and to art as a religious experience. The central image in this piece is the skull representing the excesses of life in anticipation of death. He has executed this mysterious, impressionistic painting with pastel frills and exorbitant detail of romantic waterways in Venice, which suggest personal excesses. Drawn curtains painted onto canvas convey theatrical dreaminess, sepia tones suggest antiquity, and a magical watercolor technique reflects matchless skill at delivering the gestalt of a religious experience.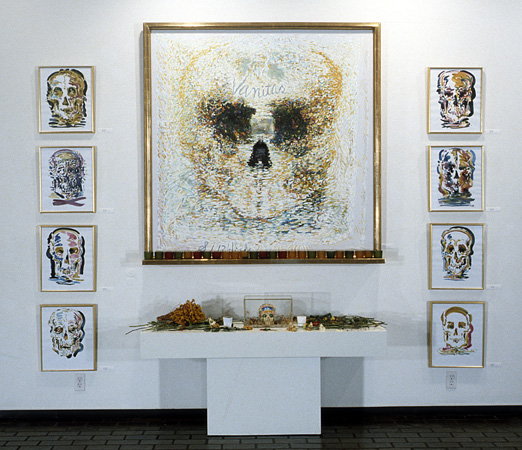 In the Las Meninas series, which nods to Velasquez, formally attired women are posed in a quasi-landscape space also inhabited by sinister looking figures, hazily discernable forms or, as in one work, the figure of the artist. He interweaves drawing and watercolor into rich, illusionistic, deep surfaces that hint at presences beyond definite perception. These are perhaps his favorite compositions and the ones he was always reluctant to sell.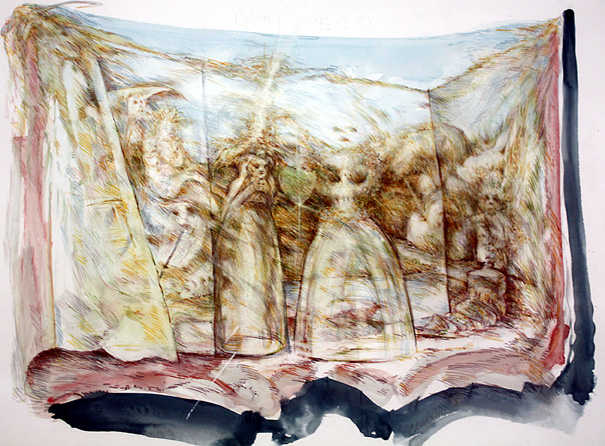 These Meninas compositions are intriguing. When working directly from photographs, he tried to develop the penmanship from years ago, while avoiding the Renzo Vespignani touch.  His watercolor washes try to avoid getting into William T. Wiley's bag too. He realized the difficulty of being aware of other artists' work. They were always showing him their things, and he would get all worked up at the beauty and creativity of them all:
"Damn, they are often where you were going. I need to find another mythology to invent. It's hard all the time to sit down and turn out some drawings that will be part of the production.  Keep looking and drawing is all I can figure."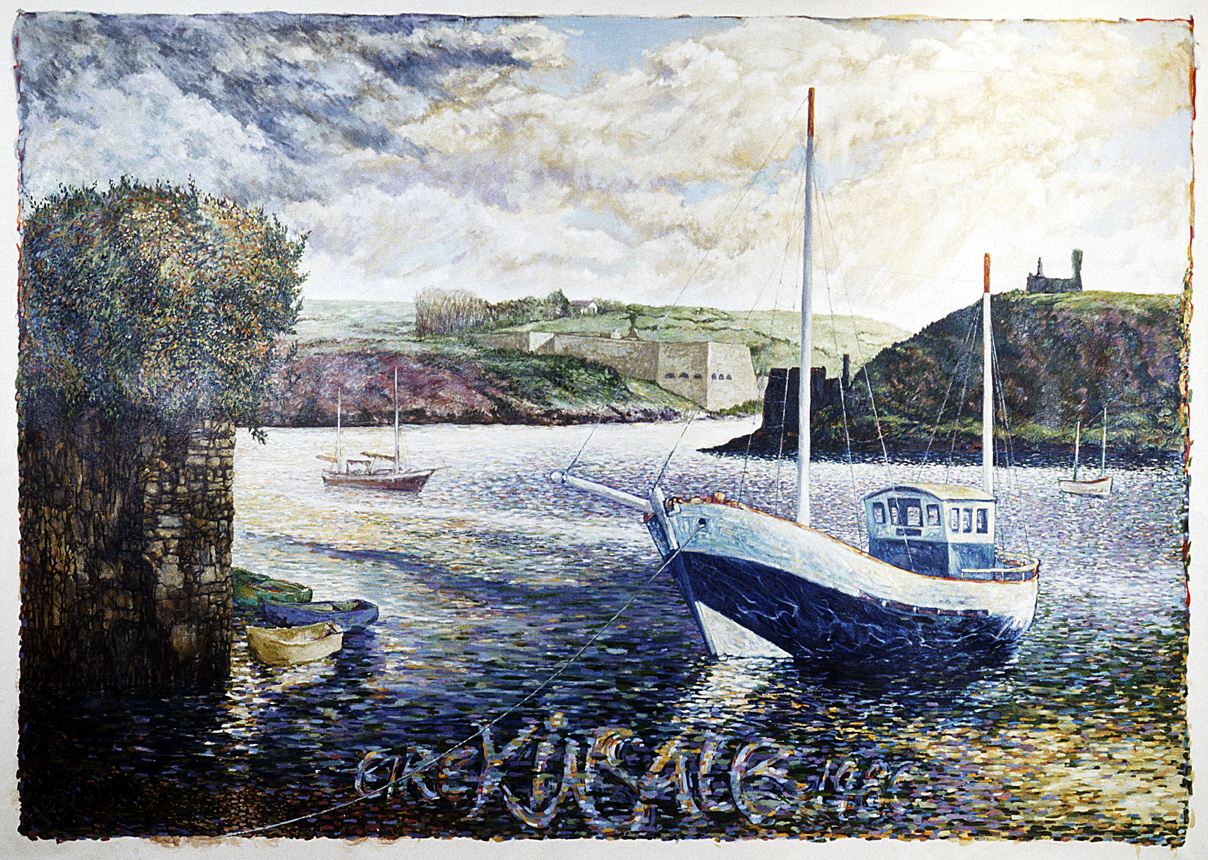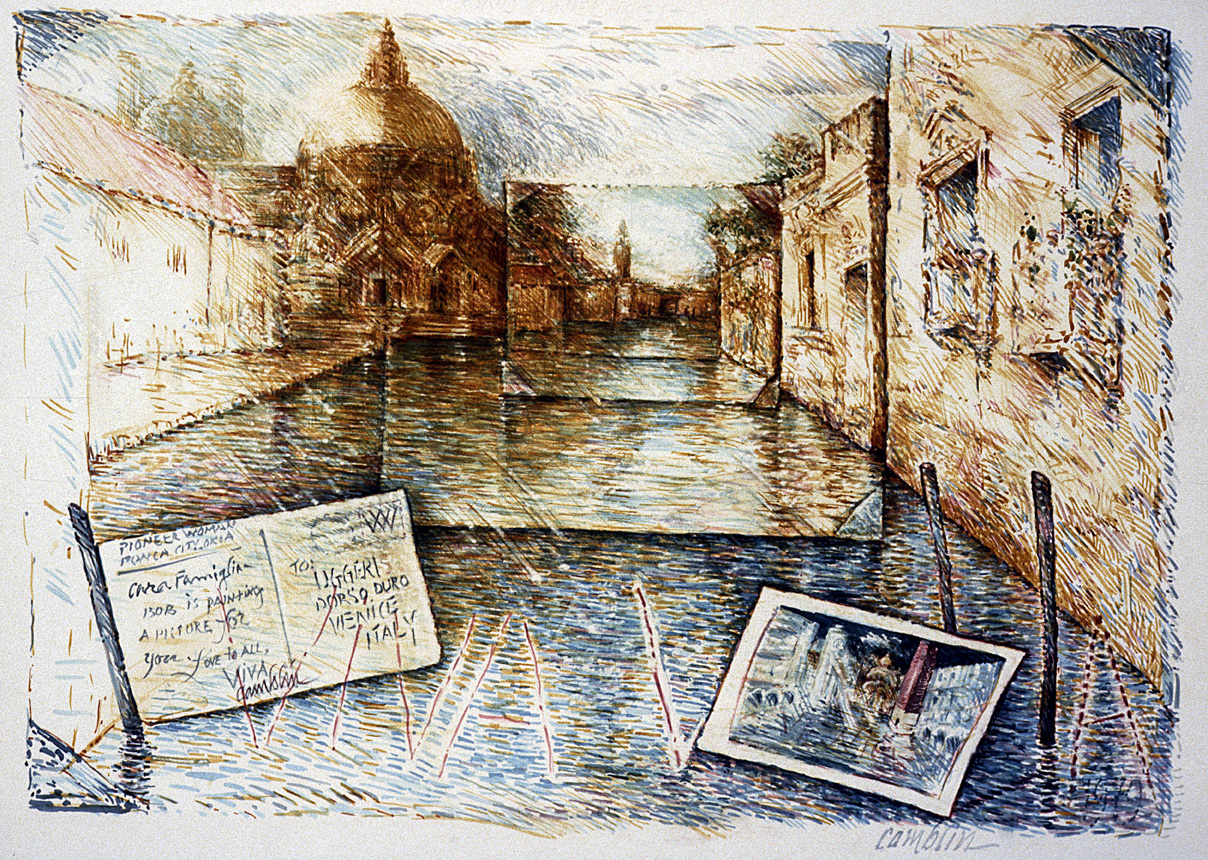 It became more difficult for him to envision large paintings and yet he needed to do more for the market, but to do them he needed to discover something again, something that could be a source of inspiration.  He felt the imaginary sculptures were too whimsical, enjoyable to get out of his system, but not deep enough when he knew something didn't quite work.  The drawings during this time were getting technically well done and he knew he had to be careful that it didn't become an end. He knew he could lock them up, but it seems a bit trickier to perform when his heart wasn't into it.  He began to rethink the Metamorphosis series as it became harder to execute a great idea.  He had ideas that were so seductive that he thought them right off the drawing board. He thought he should do a lot of fast things that didn't allow him time to over think them and perhaps that journey would lead into a new set of patterns.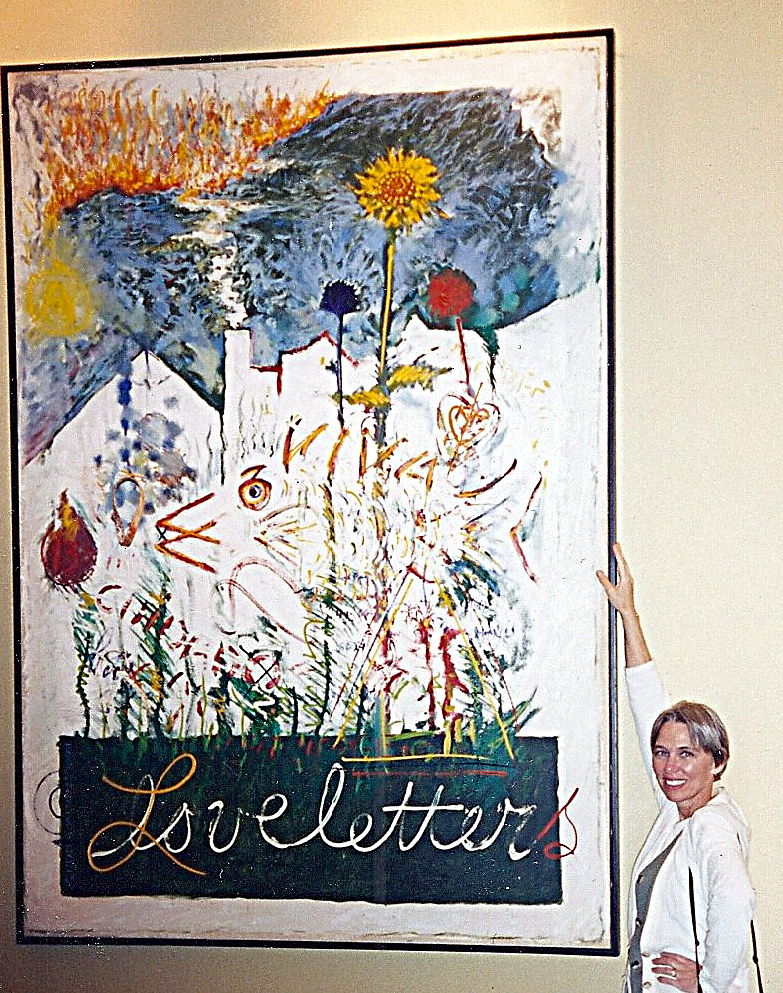 He also felt his new drawings must not only get lighter in color, but somehow simpler.  Yes, they were symmetrical with hidden complexities in baroque splendor, but the forms were all getting too soft.  The smooth transfer from one form to another was getting too easy.  He wanted to go to a more disciplined form with less indulgence in a line. Although this would be less fun, he felt it would build a more satisfying replay of the past.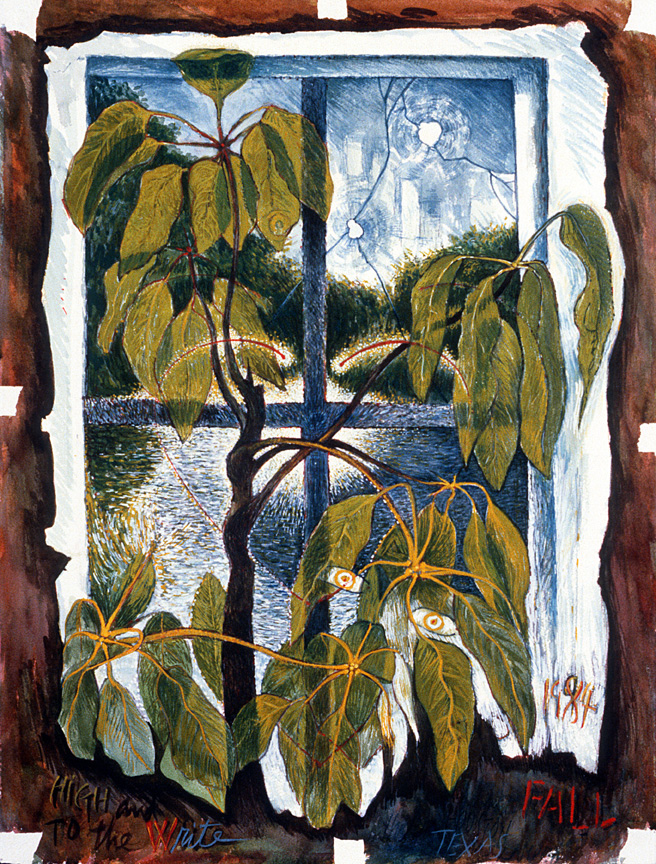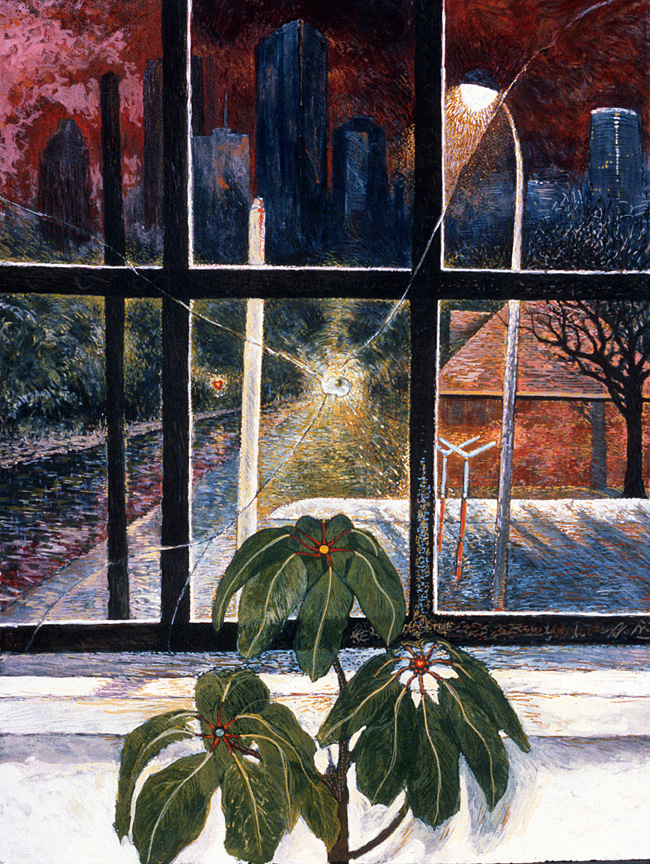 Images were dissolving for him as quickly as they arrived.  Content became a meaningless stream of past and future.  The wheels circled around him.  The will to believe and hold the chaos in check begins anew:
"Juggling one, dropping another, holding eight billion dust mites and pouring them into a logic bottle is tiring work.  And their freedom frightened me. If the end is to evolve by doing the best you can, then the means is to amplify what you're doing and believe. Now do it.  People, pigments, life, death, and trivial means; it always points and never stakes a claim.  It is powerless to do anything, except become.  You can stop any awareness and say, 'here I will live!' and 'this is my place!'  Now follow it to whatever is in store."
Part of his trouble was that he always wanted to drop out of the "art racket" but couldn't because it was the source of his income.  Art had become too big a business and he ended up competing even when he didn't want to. He would reach a point where he had to quit for a while and forget that the watercolors were really misunderstood and any success of late was only because they are in color or are influenced by Wiley.
He refused to be a watercolor factory just because they were really starting to sell. In whimsy, he wondered if he should just take the money and run. In the end, he would say, "Do what excites you as you search or you'll impede the flow. Do not hold for the right or the wrong." What excited him was the purity of painting without the influence of money, or galleries, or the mindless chatter of the art cognoscenti.
At the close of the 1980s, and free from the commercial constraints of signing his own name to artwork and gallery representation, he immersed himself in his vision of art. He took working trips to Paris, Hawaii, and the Pacific Islands creating an even broader series of paintings, watercolors, and pen/ink drawings he called "DRAWritings."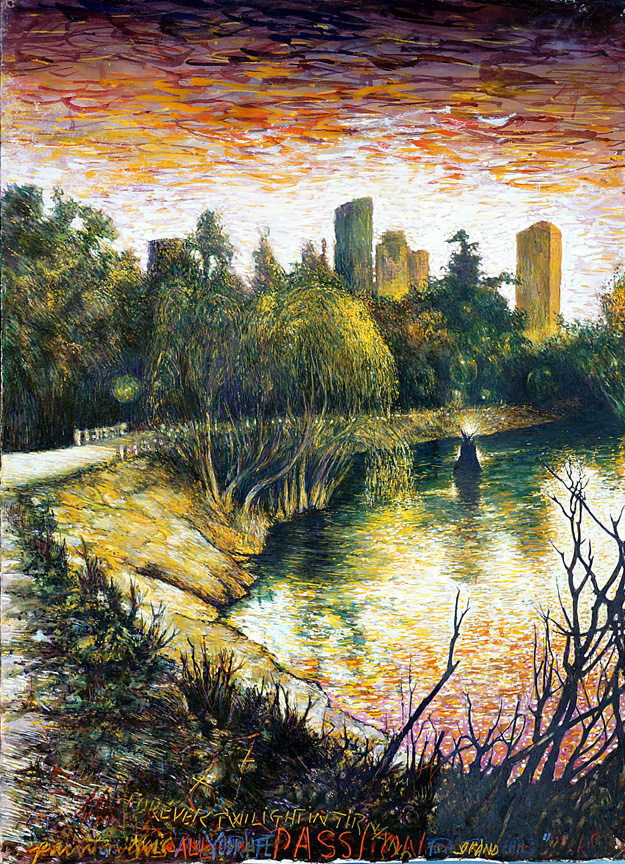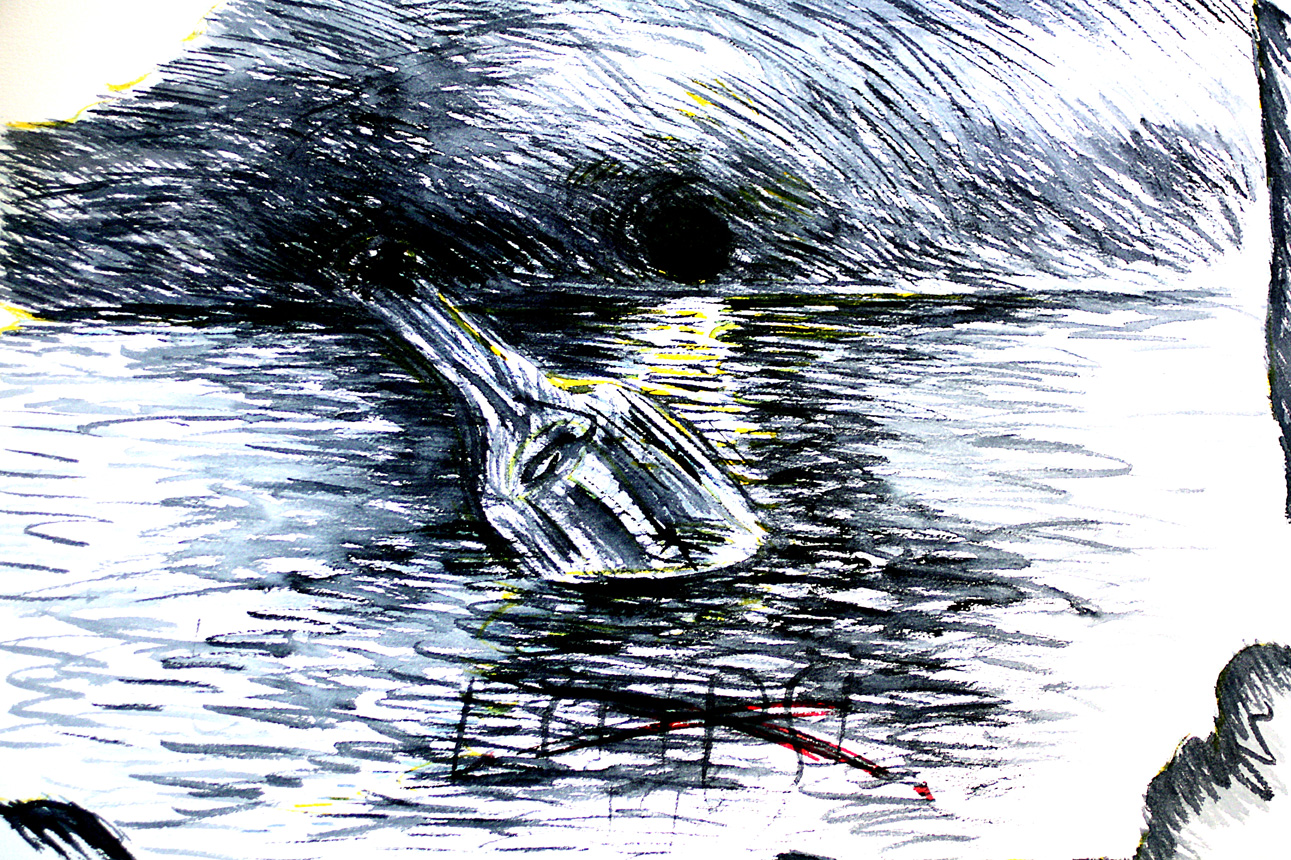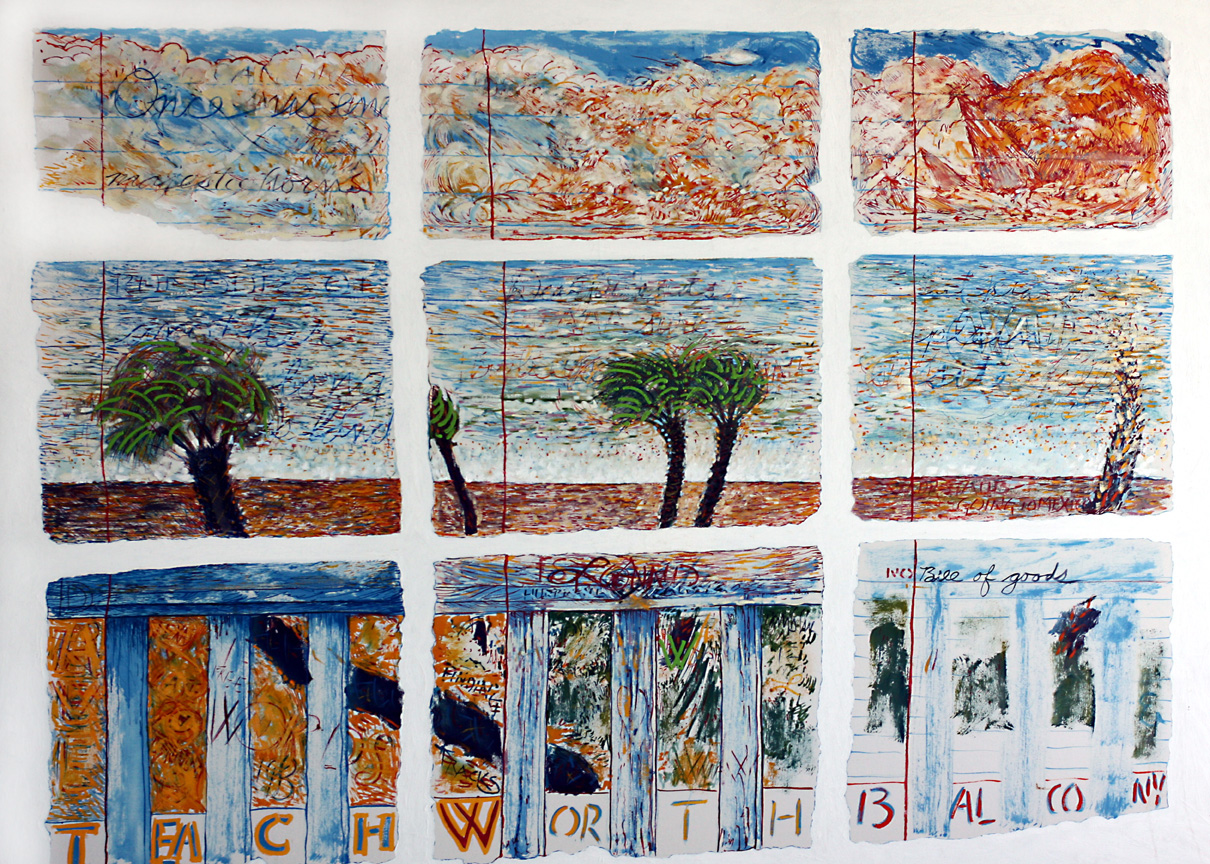 The following artwork is available in the gallery:
Title  
#957-96960

Date
  c. 1980s
Dimensions  
22.5 X 30 in.
Gallery Location  
Available for viewing
State  
Original
Rights
  © The Camblin Gallery
Caption
  "Big Al Lives" "Electric Age"