Bob Bilyeu Camblin, oldest son of Don and Viva Camblin, was born in 1928 with a pen in one hand and paint brush in the other. His parents, both accomplished artists, exposed him from childhood to most mediums – pen/ink, pencil, charcoal, watercolor, oil. He ran with it. Graduating from Ponca High, he spent his high school years as the Cat Tails yearbook's Art Director.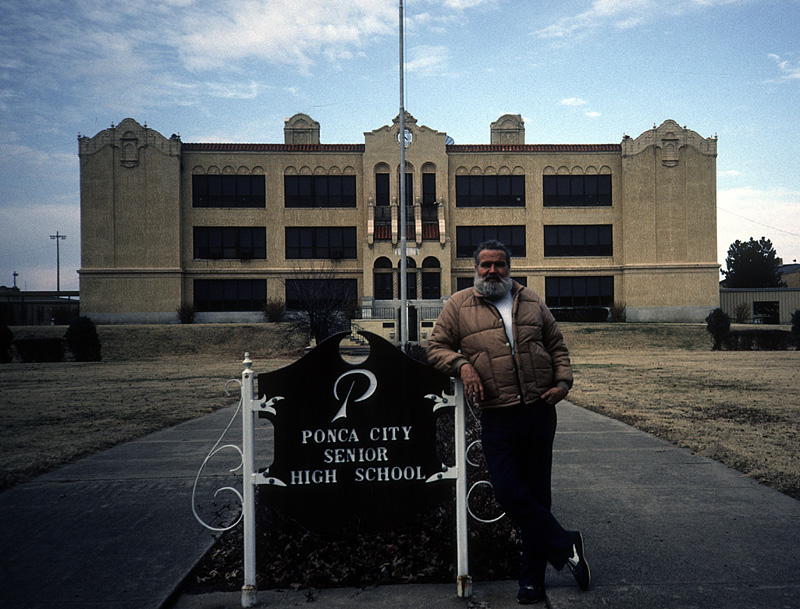 His Ponca context was the 30s and 40s: Marland era, WW-2 and its end,  iceboxes, no TV,  limited radio, standard shift autos,  mail delivered by foot from heavy canvas bags, milk bottles on the stoop, Conoco and Cities Service. Grand Avenue was indeed grand with bright lights, bustle, thriving shops and three movie theaters.  Northern Oklahoma Fur & Hide Company, where he took in raw smells of baled wool, pipe tobacco and the sight of sundry hides, flourished along with fancy hotels and the Santa Fe Railroad. All of this framed by the larger than life drama of the rise (1928) and fall (1941) of the Marland Estate.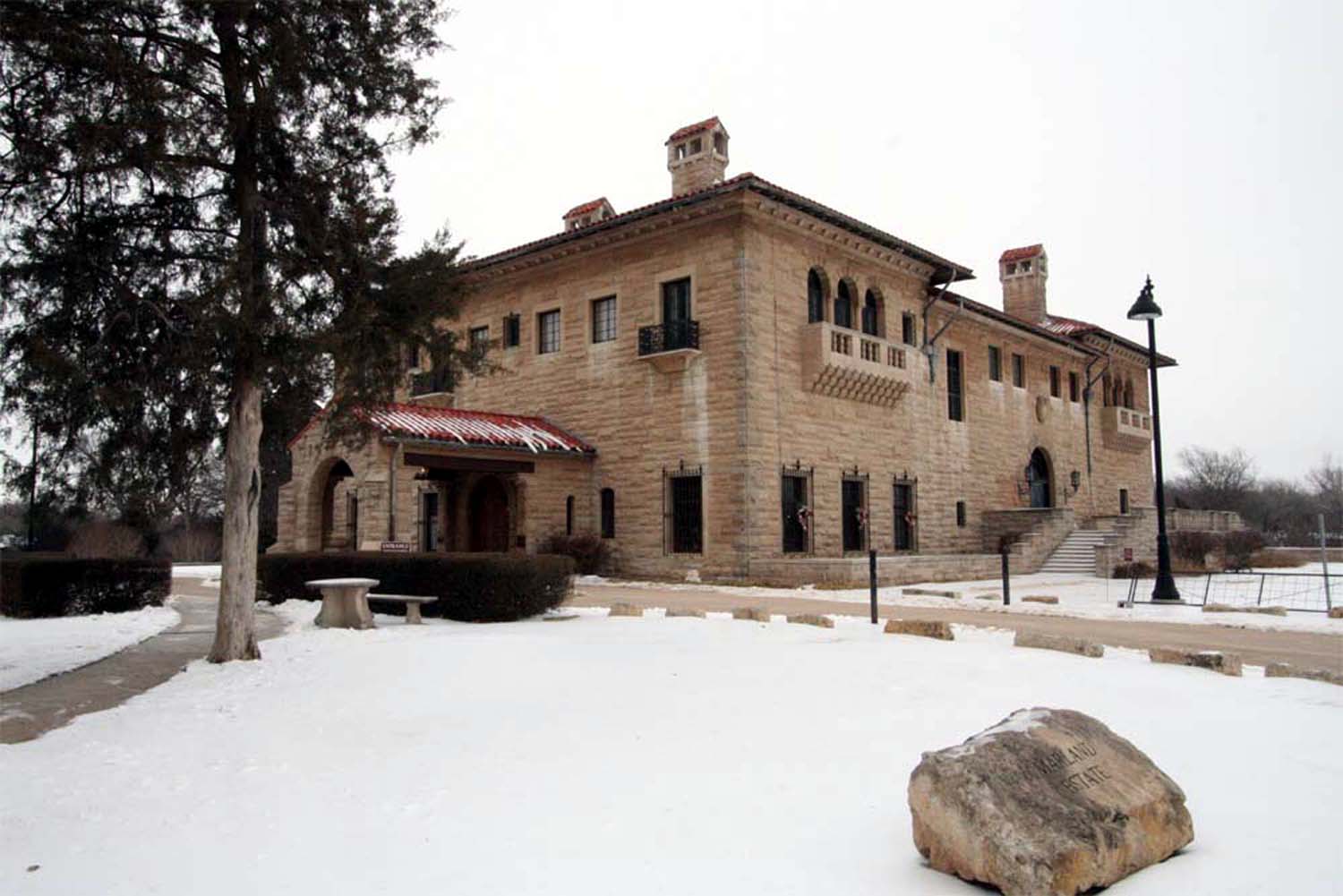 At the height of the 1920s oil boom, E.W. Marland who controlled one tenth of the world's oil, set about building a home that was befitting of his new station in life. The mansion was built on a 2,500 acre estate on the edge of town. Construction of the house began in 1925, employing dozens of European craftsmen, and was completed in 1928 at a cost of $5.5 million. Artwork and antique furnishings were purchased from around the world to fill the large mansion and gardens, including French limestone sculptures of the family.
The south wing houses the Bryant Baker Gallery featuring 44 bronze and plaster busts of Bryant Baker's work. Bryant Baker was the sculptor of the Pioneer Woman Statue, which was commissioned by Marland and stands in the center of town and figures prominently in many of Camblin's works.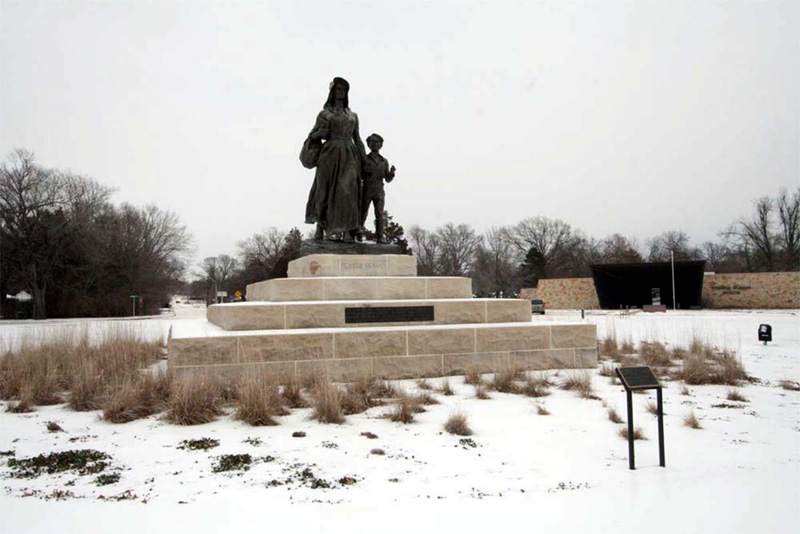 How much the Marland Estate and the Pioneer Woman had any bearing on Camblin's oeuvre is subjective, but everyone growing up in Ponca City was aware of, and proud of, the sophistication it projected on them. There is no doubt that what he saw added verisimilitude to his approach to artwork as a whole. Many of his paintings, if you look closely enough, feature elements of the Pioneer Woman deftly scripted with double VVs (shorthand for his personal pioneer woman, his mother, Viva Camblin).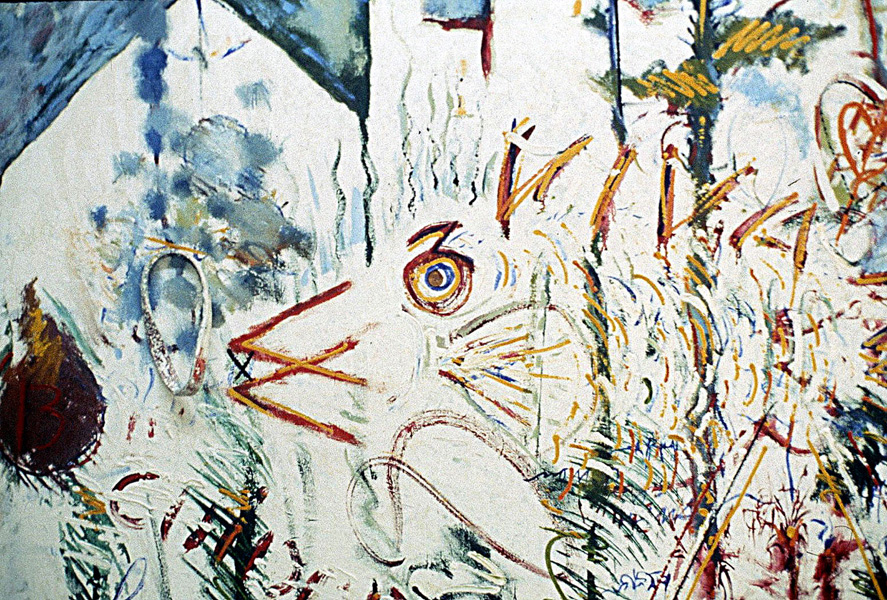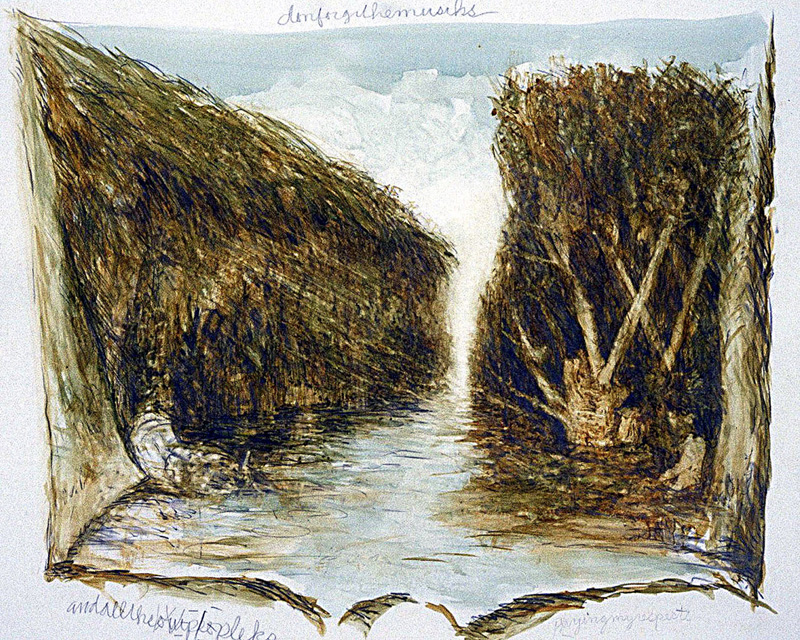 Within this rich/protean milieu, his imagination and hands were constantly at work on paper and canvas. Then, as if not stimulated enough, The Wizard of Oz came to the Poncan movie theater in 1938, a film that took his breath away. The movie's creative frisson influenced him for the rest of his life.
Forrest Harrisberger met Camblin in a high school art class and immediately struck a friendship – not so much based on a shared interest in art even though both shared a love of drawing – but rather, just from plain old "good vibes." They kept in touch for over 66 years until Camblin's death in 2010.
Military duty loomed large at the time for these high-school graduates. Common thinking was to either join and have some control, or be drafted and have none. Harrisberger chose to join and after completing his 18-month stint in 1948, took advantage of the GI Education Bill and enrolled at The Kansas City Art Institute. Camblin also took note of the attractiveness of the GI Education Bill and after his discharge he too joined the Art Institute and soon regrouped with Harrisberger.
In art classes, Harrisberger found himself dumbfounded as his classmate could do well in his lessons even with his head constantly buried in paperback fiction. Camblin read voraciously and would often cut class just to finish a chapter. This habit he would carry with him his entire life. Anyone who met him could easily be guaranteed he would have had a book with him. He devoured everything, especially the writings and lessons of Ralph Waldo Emerson, the I Ching and haiku and haiga, a style of Japanese painting typically done by haiku poets. Like the poems they accompanied, haiga was based on simple, yet often very profound, observations of the everyday world. Camblin created in much the same way Haiku poets from the 1600s did – with artwork evoking elegance and beauty in simplicity of line and thought.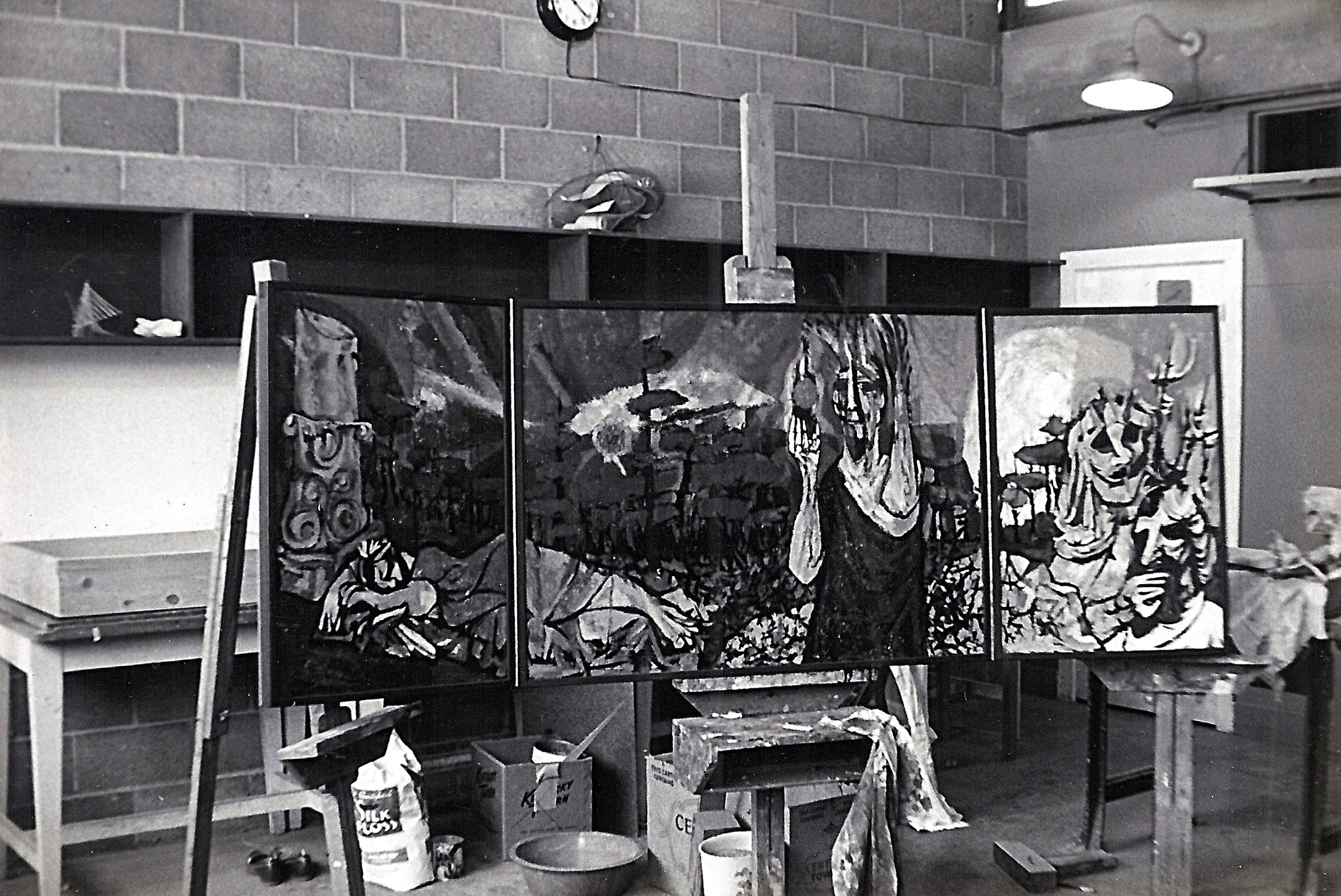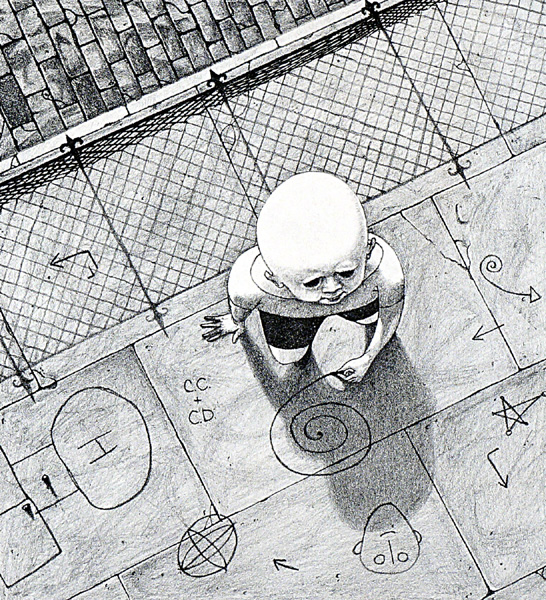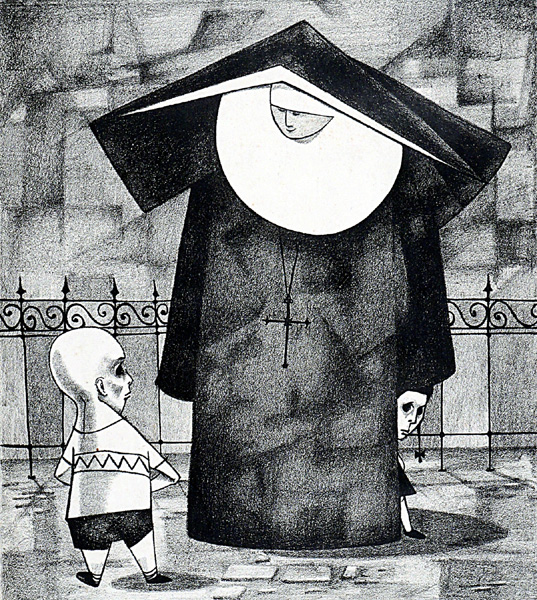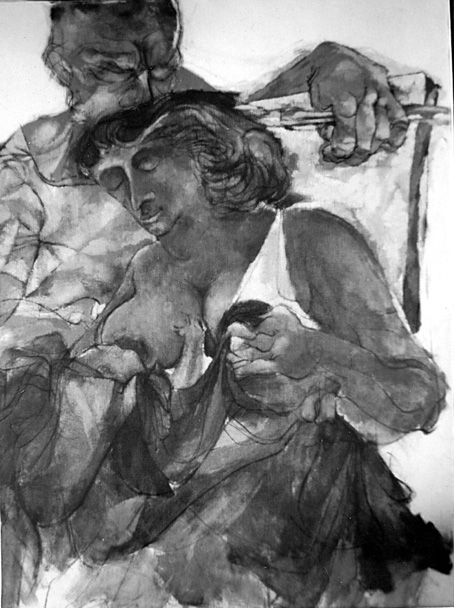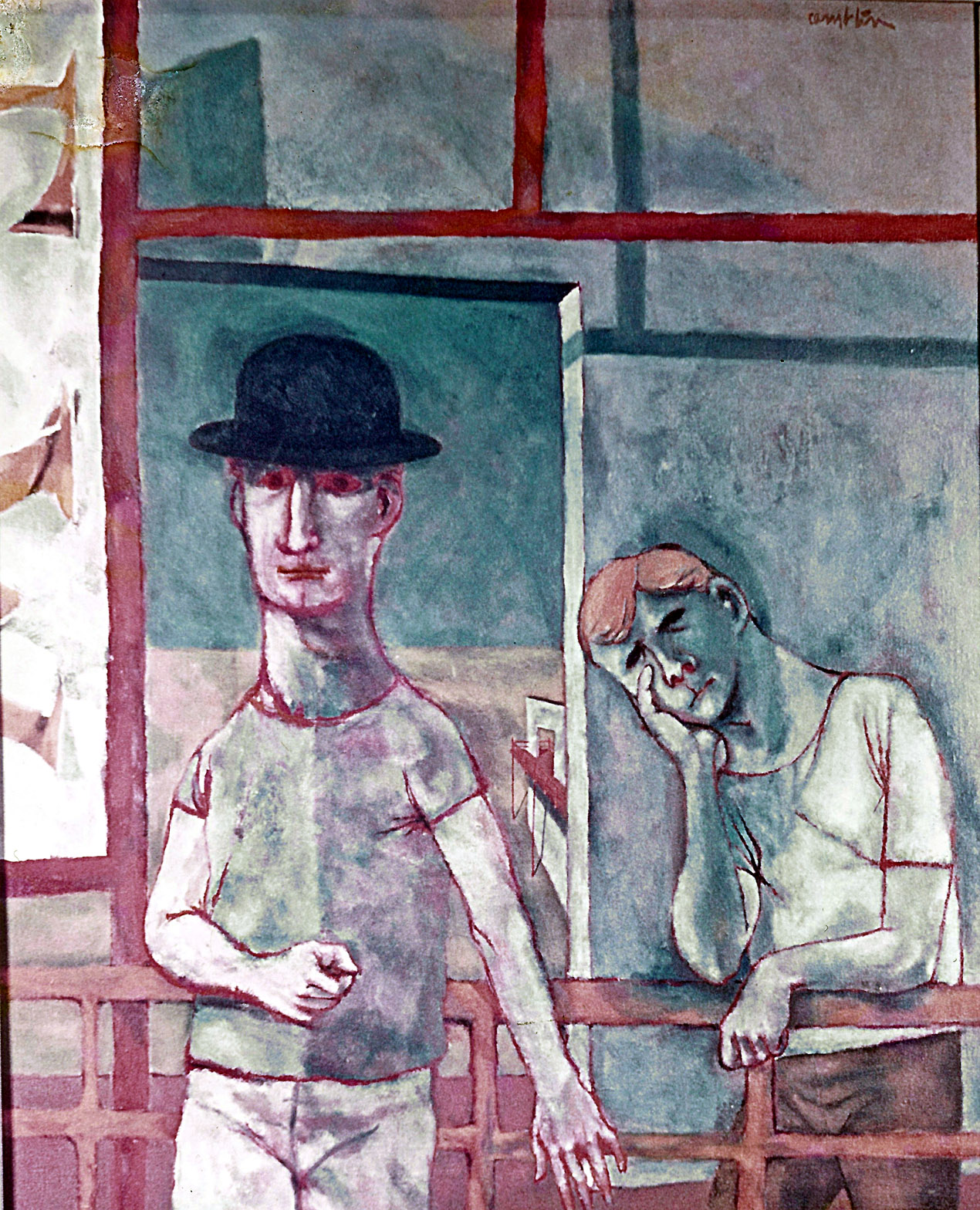 At their Kansas City boarding house, an airline pilot who also rented a room convinced the two to join the Air Force Reserve. The argument seemed solid: there would be little chance they would be called to active duty, and for a generous stipend and a free flight once a month they agreed to sign up. Shortly after enlisting, both were activated for the Korean War and they reported to Selfridge AFB in Michigan. After 5 months of training, they were transferred to military bases in California; Camblin near Los Angeles and Harrisberger near Sacramento. The two were able to meet when they were off duty and managed to do quite a few sketches of the California coastline together.
After their respective hitches were over, Harrisberger, who already had his BFA, landed his first job as an illustrator, and Camblin (with his second GI bill in hand) returned to KCAI to finish his education. Following marriage and graduation, with BFA and MBA in hand, he left for a yearlong stay in Italy on a Fulbright scholarship. Traveling throughout Europe, he was mesmerized by the grand masters of representative art and impressionism. Venice, where he stayed for extended periods and returned to time and time again, became his real-life Emerald City, Oz.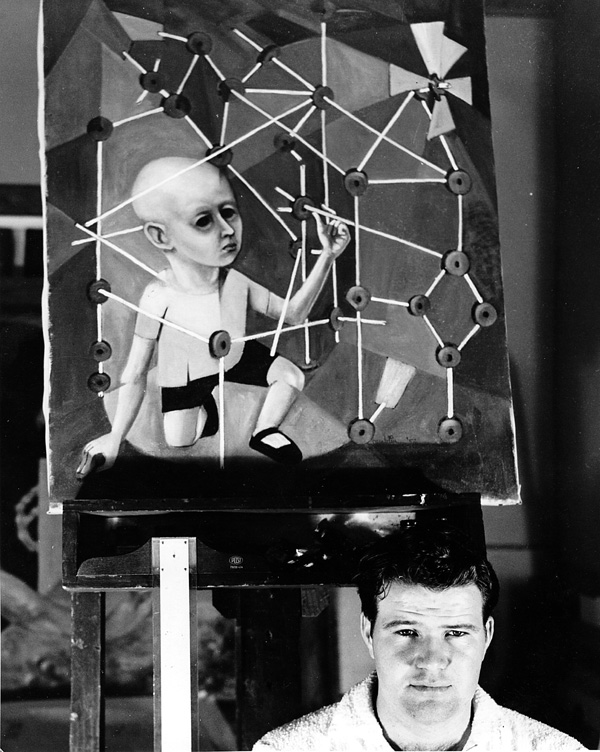 While in Italy, he was heavily influenced by what he saw at The Uffizi Gallery, a distinguished Florence art museum and at The Catacombe dei Cappuccini, the burial catacombs in Palermo. The imagery at both venues provided him with abstract figurative forms that burrowed and remained in his memory. He often called those images mummies for they were so well maintained in his imagination. He sometimes felt he might never be able to escape them, and indeed, his life's work shows that he truly may not have.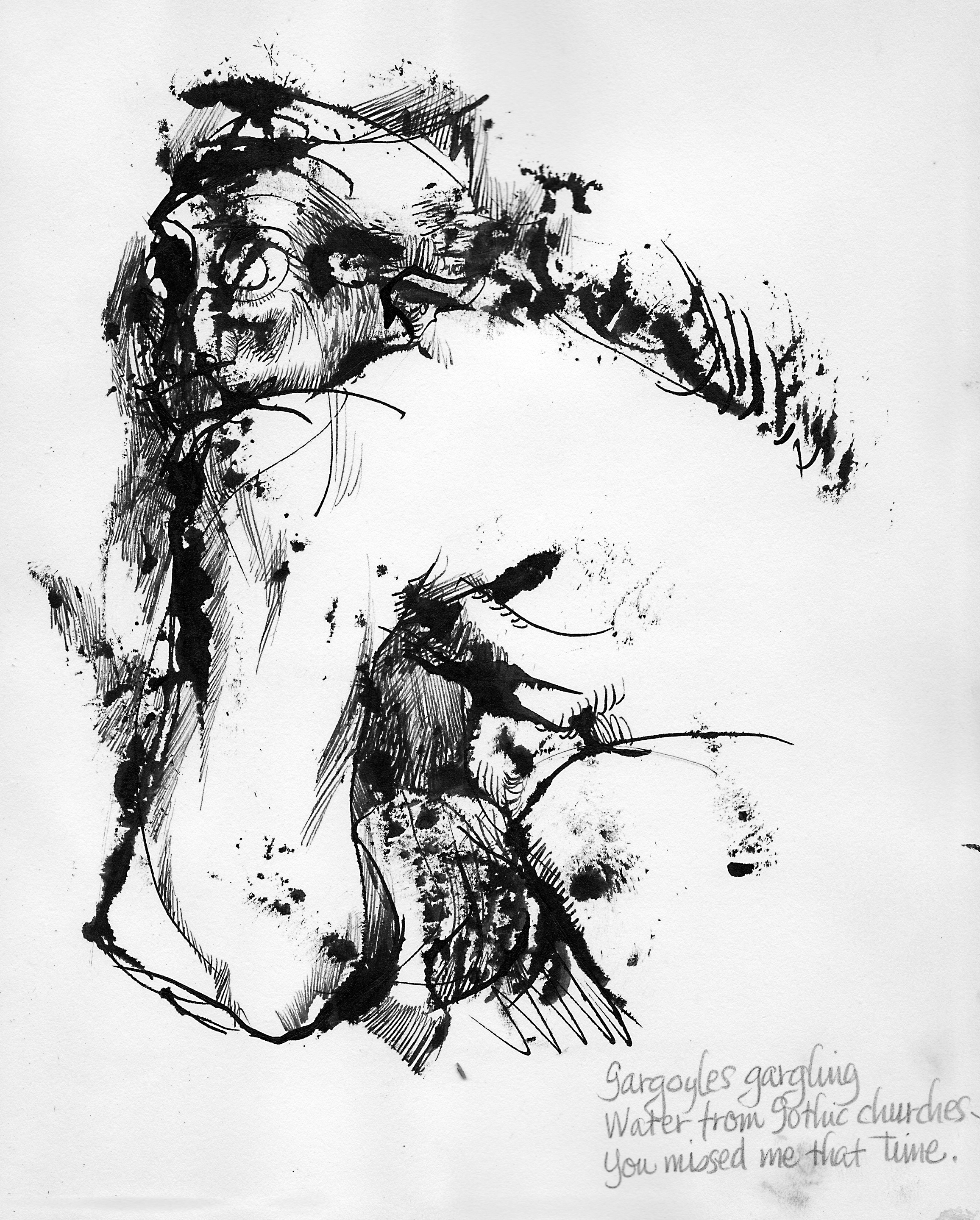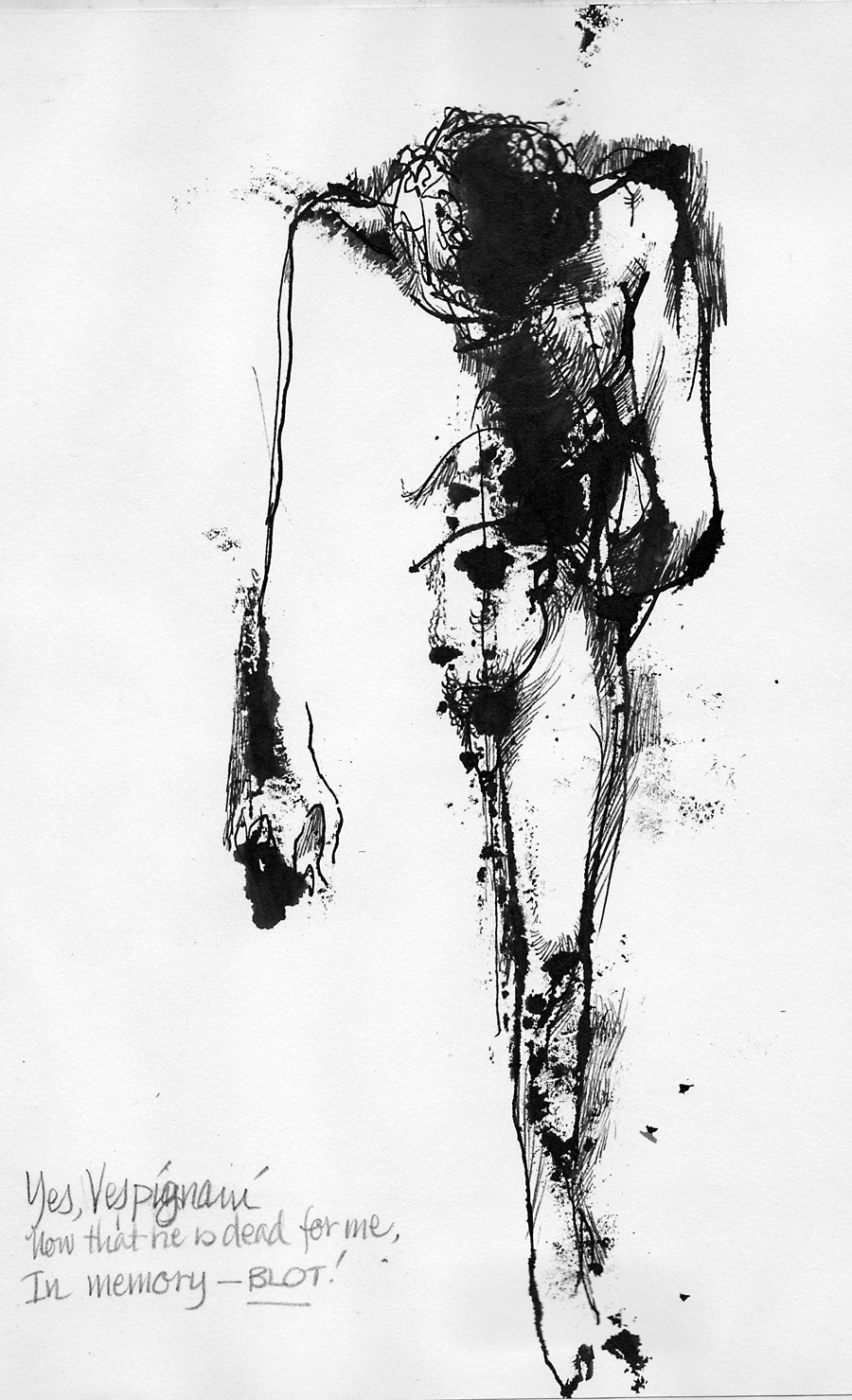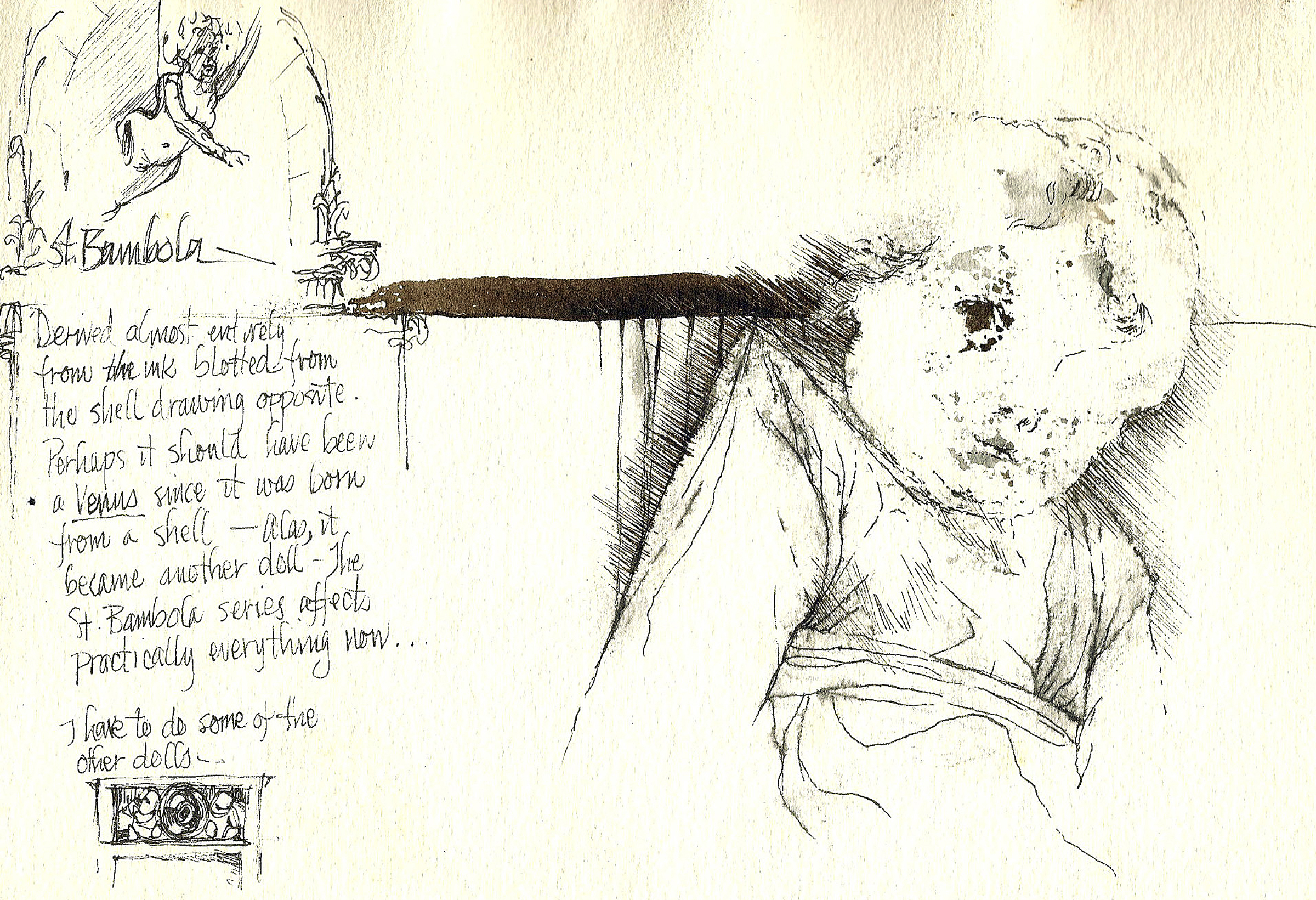 The Birth of Venus by Botticelli is one example. Botticelli's painting represents the Neoplatonic idea of love being the driving force of life. The iconography in Camblin's The Birth of Venus pays homage to KPFT Radio 90.1, a listener-sponsored community radio station in Houston, Texas, which began broadcasting March 1, 1970. To its loyal listeners Camblin's painting was indeed the Neoplatonic idea of love (especially love of rock & roll, it seems).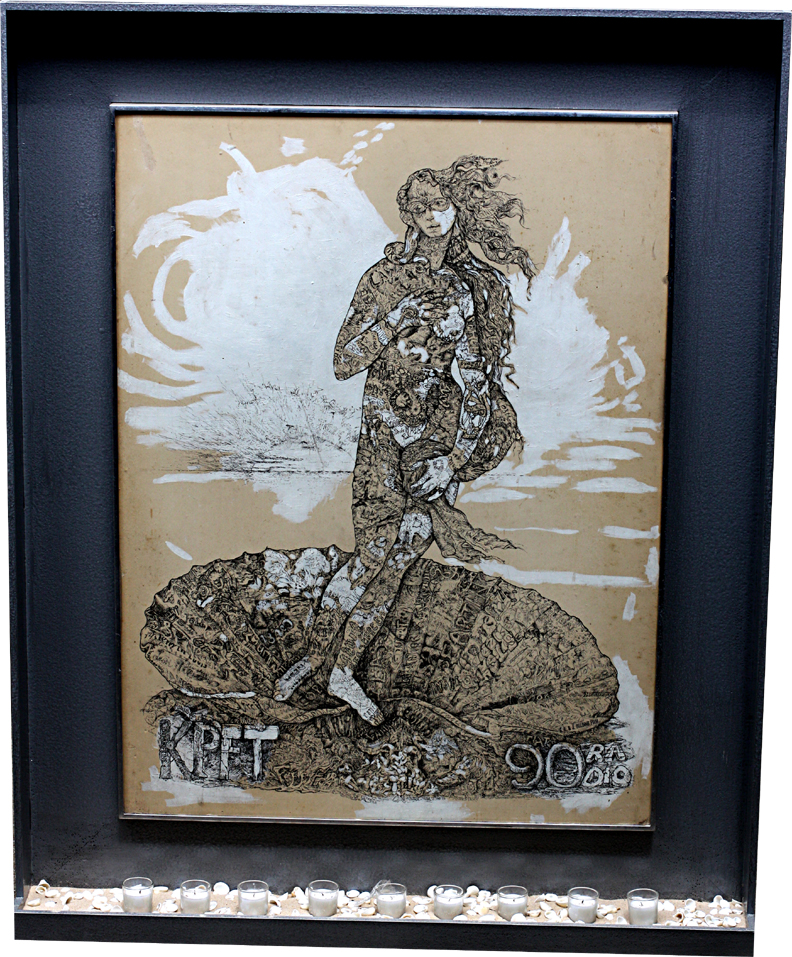 Another painting by Botticelli, Primavera, was inspirational as well. According to Botticelli, the woman in the flowered dress is Primavera (a personification of spring) whose companion is Flora. Camblin's painting of Flora goes way beyond early renaissance painting style. Camblin's Flora is wearing a mask and is full of hidden imagery, such as hearts, electrons, haiga, a red exclamation point, and a smile that outshines Italian artist Leonardo da Vinci's Mona Lisa.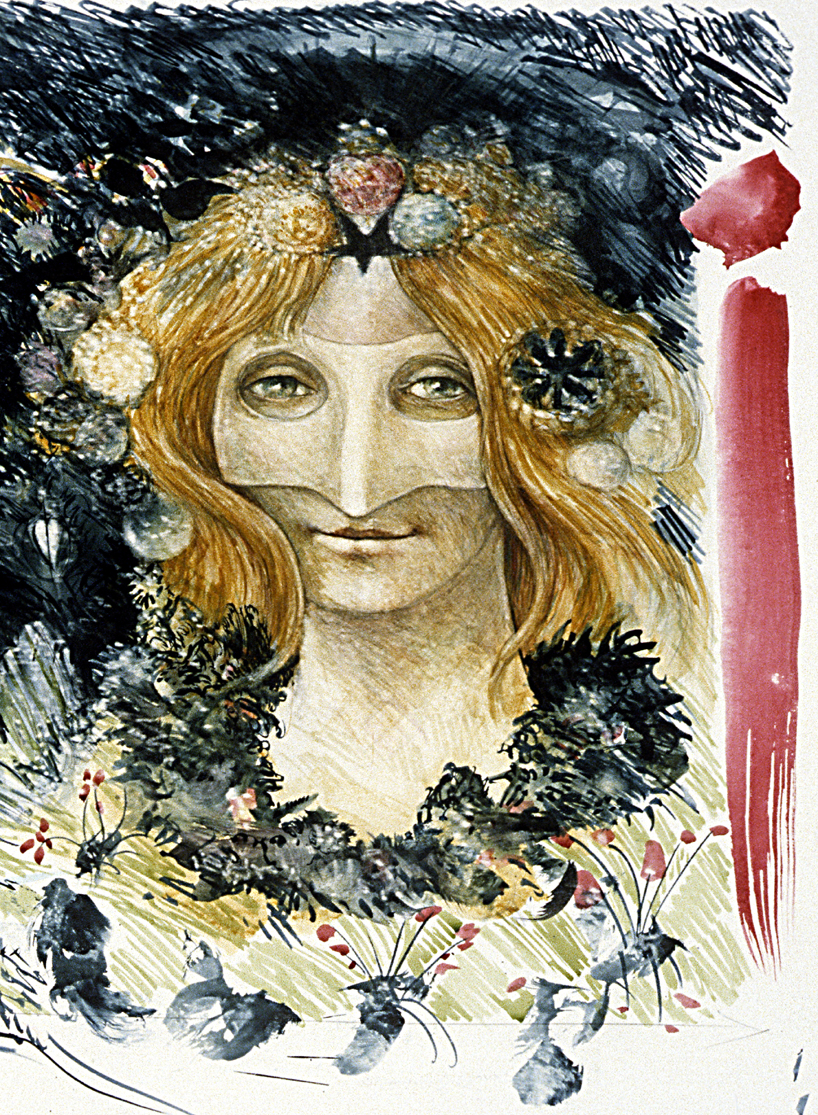 The best of his Fulbright pieces were shown at many venues including the Chicago Art Institute's 62nd American Paintings & Sculpture Exhibit; in the Fulbright Artists Exhibition in Rome, Italy; in an Exhibition of Self-Portraits in Milan, Italy; as well as in the American Federation of Artists Traveling Show.
The following works are in the gallery:
Title    
Studio Torre

Date  
1957

Dimensions   
23 x 16 in.

Signature  
"Camblin"

State  
Original pen and ink
Caption
   "View from studio Torre Argentina in Rome 1957"